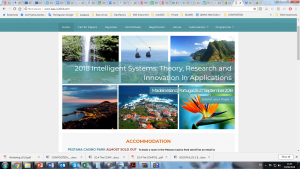 Taking place within the IEEE-IS2018 conference, the Connected Smart Factories workshop brings together industrial representatives from the digital manufacturing, FIWARE and IoT (Internet of Things) domain alongside the researchers from the areas of smart manufacturing, enterprise information systems, IoT, cloud computing, risk management, big data, standardisation, process engineering and business modelling to discuss the ongoing developments in the broad area of Connected Smart Factories including Digital Automation and FIWARE initiatives.
The workshop is supported by four European funded projects (COMPOSITION, DIGICOR, NIMBLE and vf-OS) with focus on different aspects of smart manufacturing, and with the common vision to contribute towards a Connected Smart Factory platform in Europe with particular emphasis on the FIWARE technology.
"The COMPOSITION project is not only supporting, but we will also have a multiple presence" says Dr. Marc Jentsch, Project Coordinator from partner Fraunhofer FIT, who will also chair the Big Data Management session. Mr. Giuseppe Pacelli from partner ISMB will present the results on "Marketplaces in the COMPOSITION platform", Dr. Jentsch will discuss "Enterprise Integration in the COMPOSITION platform", and Mr. Paolo Vergori from partner ISMB will give a talk on "The Use of Deep Learning techniques in the COMPOSITION platform". "It is a great opportunity to present the outcome of our work and to engage in collaboration", says Mr. Vergori.