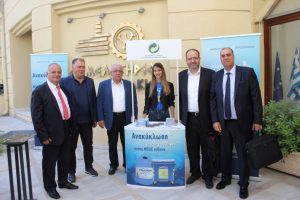 Ms. Matina Vogiatzi and Mr. Theofilos Mastos from KLEEMANN had the opportunity to present the COMPOSITION project to the "Recycling in Business and Environmental Protection" event, organised by the Chamber of Kilkis on May 18 in Kilkis, Greece.
Local authority representatives, policy makers, members of the chamber, companies from the prefecture of Kilkis, NGOs and the general public participated in the event. More information (in Greek) can be found in the Chamber of Kilkis website.
Protecting the environment and enhancing environmental awareness are priorities for KLEEMANN. Through the COMPOSITION project and the integration of industry 4.0 technologies and tools such as IoT, Big Data Analytics and Decision Support Systems, KLEEMANN is expecting to incorporate predictive maintenance functionality based on real-time diagnosis of the condition of the equipment, thus detecting precursors of future failures and as a result reducing the waste generated.
"Our participation in research and innovation projects such as COMPOSITION offers a great opportunity for digitalizing and automating towards industry 4.0 by simultaneously ensuring environmental protection, improved health and safety conditions and cost reduction" says Mr. Theofilos Mastos.