To establish exactly where in the production that COMPOSITION can be of benefit, one must understand the existing processes. For this reason, all partners were invited on a guided tour around KLEEMANN's and ELDIA's facilities on 5-6th December.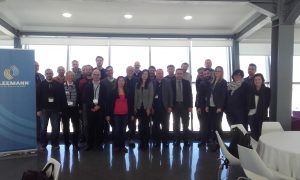 The first visit was to the Head offices of KLEEMANN and the manufacturing and storage facilities in Kilkis, Greece. KLEEMANN is a major lift company on the global scene, and the facilities in Kilkis are located in the industrial area, covering a total area of 63.258 m2.
The participants saw the step-by-step production line of pistons and the flow of raw materials and products. The operational processes in the logistics warehouse and the waste management facilities were also shown.
– The experts guiding the tour have focused on the guests' specific requests and questions in order to give them access to all the state-of-the-art lifts production technologies at KLEEMANN's manufacturing and storage facilities, explains Aggelos Papadopoulos, Technical Services Manager at KLEEMANN.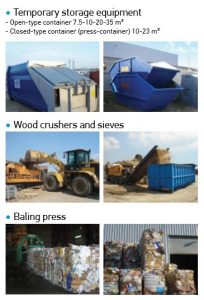 The other visit was to the ELDIA premises in Thessaloniki, an hour's drive from KLEEMANN. ELDIA supplies waste management and recycling services for KLEEMANN and is among the industry leaders within this field in Greece. The company owns building facilities covering 50000 m2, housing the administration offices, the transportation coordination office, as well as a Container Terminal, Solid Waste Transshipment and Sorting Station, Recyclable Material Sorting Station and a Waste-Baling Unit.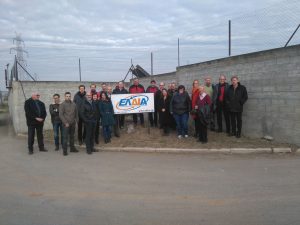 The aim in COMPOSITION is to optimise the current logistics processes of waste management in the manufacturing of lift and hence at the ELDIA premises, the participants walked through the truck and container terminal, the logistics department and waste sorting areas for more insight.
– The participants got a better understanding of our operations pertaining to collection, transportation and handling of various waste and recyclable streams, says Dimitris Gkortzis, President and CEO at ELDIA.
Based on the input and discussions, the next step will now be to create scenarios and use cases for the COMPOSITION services, assisting in the KLEEMANN production as well as in the existing collaboration with ELDIA. The services will be based on the creation of an automated operating system that will allow a more efficient connection between the industry and its suppliers.